e-Planning "Consortium"
Portugal and Brazil with MIT
e-Planning, as a scientific area, was born at the Massachusetts Institute of Technology (MIT) in 2003, with the first e-Planning Seminar.
Since 2006, several Universities, Research Centers and other Institutes created an informal "Consortium on e-Planning" in Portugal, in collaboration with the Dept. of Urban Studies and Planning (DUSP) at MIT (USA), and other international institutions. The main goal is to articulate research and academic curricula from both engineering and social sciences, towards an e-Planning agenda.
It is important to research and develop Technology with, and for, Social Sciences. The network of e-Planning "Live Labs - Technology and Society" (LabTec TS), represent a novel approach in Academia.
Within the e-Planning Consortium, 4 Universities in Portugal registered a new Joint PhD Program on e-Planning, taught in english. Interested students, including non-portuguese citizens, may apply since school year 2009/2010.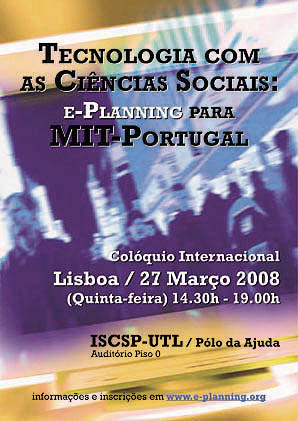 The Portugal e-Planning Consortium, in collaboration with MIT, presented its research agenda and curriculum on the 27th March 2008 in a colloquium held at ISCSP (The Institute of Social Sciences and Politics), Technical University of Lisbon, at the "Polo da Ajuda" Campus.
In this site you will find updated information concerning the new agenda on e-Planning, including Doctoral Program, Research, Exchange Programs and links to activities engaging civil society.
---